Rufuga



Species

Rogress

Element

Water

Location

Beach east of Topazion

Logos

Purity
Rufunga is the Rogress imbued with the Logos of Purity. She can be found on the back east of Topazion
Alf lures Rufunga by having Adele sing "Real's Song" to produce Hozone, which Rogress hate. In order to obtain Rufunga, you must defeat Alf, Leslie and Adele in battle. If you win, Alf's team flees. If you lose, Alf gains Rufunga, the only way to obtain her after that point would be to beat Alf at Verct Skywalk.
Logos: Purity
Element: Water
Summon Effect: Full heal on all allies, ups in defence and resistance.
Summoning: "Singer of Purity, play us your tune! Rufunga!"
Phrase: "Witness the Logos of Purity! May the sacred string bring you some!"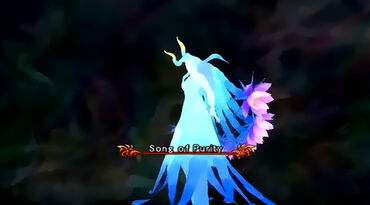 Ad blocker interference detected!
Wikia is a free-to-use site that makes money from advertising. We have a modified experience for viewers using ad blockers

Wikia is not accessible if you've made further modifications. Remove the custom ad blocker rule(s) and the page will load as expected.